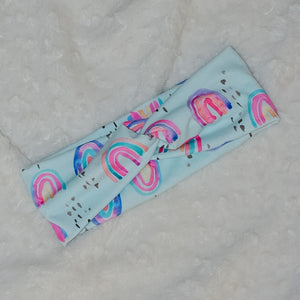 Match your pup with colorful rainbows. The vibrant rainbows pop off of the light blue background. Now show your pup how much your care for them by matching with a stretchy headband!
-The fabric is a super soft jersey knit.
-Adult headband: 3.25" thick and 19" circumference. 
-Mini headband: 3" thick and 14" circumference.
-Pattern location on each headband may vary.