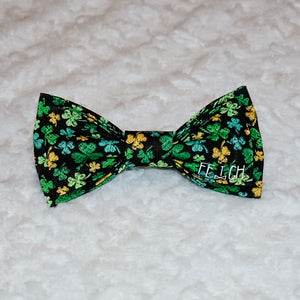 The Rua Bowtie is for the playful pup. This pup may be clumsy, but always gets up and back on his feet! The bowtie slides on vertically to your dog's collar. 
Large: 5 x 2 1/2 inches
Medium: 4 1/2 x 2 inches
Small: 4 x 1 1/2 inches 
All Fetch bowties are handmade with your dog in mind. We take pride in our work and focus our attention to the tiniest detail. Your dog's safety is important to us so we make sure to select sturdy fabrics and triple stitch our bowties to enhance durability.